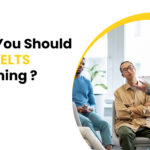 Why you should take IELTS Coaching?
September 22, 2023
Study MBA Abroad
October 19, 2023
Should I take online IELTS coaching or offline? Which is better
Online IELTS coaching can be a better choice for many due to its flexibility, cost-effectiveness, and personalized learning options. Additionally, class recordings ensure that you can review crucial lessons at your convenience.
Deciding between online and offline IELTS coaching is a common question. It depends on how you like to learn and your schedule. We're here to help you make the right choice for your IELTS journey.
IELTS is a big deal. It's a test that helps people move, study, or work in English-speaking places. But not everyone gets a high score. So, let's look at online and offline coaching to see which one fits you best.
Comparison between Online IELTS Coaching and Offline IELTS Coaching
Online IELTS Coaching 
Online IELTS coaching has gained popularity in recent years, offering students a flexible and convenient way to prepare for the exam. This approach comes with numerous advantages, particularly suited to students with a certain level of English proficiency.
Online IELTS coaching has become a flexible and efficient approach to be ready for this important English language competency test in today's digital age. Online coaching offers many benefits that accommodate to the requirements and interests of test-takers from different walks of life, including the convenience of virtual classrooms and a plethora of resources at your fingertips. In this investigation, we'll delve into the several advantages of choosing online IELTS coaching, illuminating why it has grown to be a popular option for people looking to succeed in the IELTS examination.
Advantages 
Flexibility
With online coaching, you can study from anywhere with an internet connection. That means you can fit it into your busy schedule. Plus, they often have classes at different times, like early mornings or late evenings, which can be super helpful. 
Lots of resources
You get all sorts of stuff to help you learn. Practice tests, videos, exercises, and study materials – they've got it all. This means you can pick what works best for you.
Cost effective
Online courses are usually cheaper. You don't have to worry about travel costs or anything like that.
Personalized Learning
Some online classes adapt to your progress. So, if you're struggling with something, they'll focus on that to help you get better.
Prep for Computer-based test IELTS
If you're planning to take the IELTS exam online, online coaching can be super helpful. You'll get used to the format and feel more confident during the actual online test.
Suggested: Difference between Computer based IELTS and Paper based IELTS Exam
Expert Help 
Some online courses have real IELTS pros who can give you one-on-one guidance. That's a big bonus.
Class Recordings
Here's a cool thing – many online classes are recorded. So, if you miss a class or want to review something, you can watch the recording. That's handy!
Fast-paced Learning
Online classes can be faster because they focus on getting you ready for the test quickly. If you're in a hurry, this could be a good thing.
Disadvantages:
Lack of Face-to-Face Interaction
You won't have a real teacher or classmates in the room with you. For some people, that's a bummer because you miss out on immediate feedback and the social side of learning.
Self-Motivation Needed
Online learning means you have to be good at motivating yourself. It's not as structured as traditional classes, so you need to stay on track.
Offline IELTS Coaching
Advantages
Real Interaction
In offline coaching, you get to meet your teacher and classmates face-to-face. This means you can ask questions right there and get instant help. It's like being in a regular classroom.
Slow Paced Learning
If you're looking to build your English skills from the ground up, offline classes can be great. They often take things slower, making it easier to understand and improve step by step.
More English Speaking Practice
Being in a physical classroom gives you more opportunities to practice speaking English with your teacher and fellow students. This can boost your confidence and fluency.
Make New Friends
Offline classes provide a chance to make new friends who share your goal of acing the IELTS exam. You can form study groups and support each other.
More discipline
Having set class times and a structured environment can help you stay disciplined and focused on your studies.
Prep for Paper-Based IELTS
If you're planning to take the IELTS test on paper, offline coaching can be a better match since it mirrors the test format more closely.
Suggested: https://bluehawks.in/ielts-computer-based-test-vs-paper-based-key-differences/ 
Disadvantages
More Costly
Offline coaching tends to be pricier due to expenses like rent, classroom materials, and teachers' salaries.
Less Flexible
You have to be at the class location at specific times. This might not work well if you have a hectic schedule.
No Class Recordings
Unlike online classes, offline classes don't usually record the lessons. So, if you miss a class or want to review something, you might miss out.
Less Time for Self-Study
Offline classes can eat up a lot of your time, leaving you with less time for self-study and practice.
Shyness in Asking Doubts
Some people might feel shy about asking questions in a physical classroom, which can hinder their learning.
Is IELTS Coaching Worth it?
Yes, IELTS coaching is worth it because it provides expert guidance, personalized feedback, and builds confidence.
Many folks gearing up for the IELTS test often wonder whether they should get some coaching or not. It's a real head-scratcher, and the answer isn't one-size-fits-all. It's all about you and what you want.
If you're looking for a game plan, some one-to-one advice, and a tailored strategy to brush up on your English, then IELTS coaching, like what Bluehawks offers, can be a game-changer. It can boost your confidence and help you get the hang of how the test works.
But hold on for a sec! If you're the kind of person who can motivate yourself, already speaks English like a pro, and can stick to a study schedule all on your own, you might not need coaching.
In a nutshell, the value of IELTS coaching comes down to how it fits with your style of learning, your daily routine, and what you want to achieve. So, whether you go for coaching or not, remember it's all about what works best for you.
Suggested: https://bluehawks.in/why-you-should-take-ielts-coaching/ 
Should I take IELTS on computer or paper?
It's a personal preference whether to take the IELTS on a computer or on paper. While paper-based tests may be more suited to those who are more used to traditional exams, computer-based tests offer faster results and helpful features like word counts. When making a choice, take into account your level of technology familiarity and desired test-taking format.
Suggested: https://bluehawks.in/ielts-computer-based-test-vs-paper-based-key-differences/ 
Conclusion
In the end, choosing between online and offline IELTS coaching depends on your personal preferences and needs. If you thrive on face-to-face interaction, need to develop your English skills gradually, and prefer a structured environment, offline coaching might be your best bet. However, consider the cost and the flexibility it offers. No matter which option you choose, remember that consistent practice, regular checks, and a positive attitude are the keys to acing the IELTS exam. Good luck!
Crack IELTS with bluehawks IELTS Prep
Join Bluehawks' Online/Offline IELTS Prep for IELTS to achieve an excellent band score. Our team of experts will assist you in mastering the assessment, and our counselors will provide Guidance through the registration, admission process, and visa interview. Chat with our counselors today to learn more.
Also Read: https://bluehawks.in/the-ultimate-guide-to-ielts/
https://bluehawks.in/which-countries-and-universities-accept-ielts/
https://bluehawks.in/ielts-score-validity-ultimate-guide-on-score-validity-for-different-countries/
Frequently Asked Questions
Question. Which option is more cost-effective?
Answer. Online coaching tends to be more cost-effective as it eliminates commuting and associated expenses. Offline coaching may involve additional costs like travel and materials.
Question. Can I get personalized attention in online coaching?
Answer. Yes, many online coaching platforms offer personalized guidance from experienced instructors through virtual sessions.
Question. What if I miss a class in online coaching?
Answer. No worries! Most online classes are recorded, so you can catch up at your convenience.
Question. Is online coaching suitable for beginners in English?
Answer. Online coaching can work for beginners, but it may require self-motivation and discipline. Offline coaching often provides a more gradual learning curve.
Question. Do I need a fast internet connection for online coaching?
Answer. A stable internet connection is recommended for a seamless online learning experience.
Question. Will offline coaching help me with real interactions in English?
Answer. Yes, offline coaching offers face-to-face interaction with instructors and classmates, enhancing your speaking and listening skills.
Question. Which option is better for those taking the paper-based IELTS test?
Answer. Offline coaching may be more suitable as it mirrors the paper-based test format. However, online coaching can still prepare you effectively.
Question. What if I need help with registration and visa interviews?
Answer. bluehawks will help you with all your study abroad journey whether it is registration or visa interviews.
Question. Can I switch from online to offline coaching or vice versa if needed?
Answer. Some coaching providers offer flexibility, allowing you to switch between online and offline classes based on your needs.
Question. How do I decide which mode is best for me?
Answer. Consider your learning style, schedule, budget, and proficiency level in English. Choose the option that aligns with your preferences and goals.