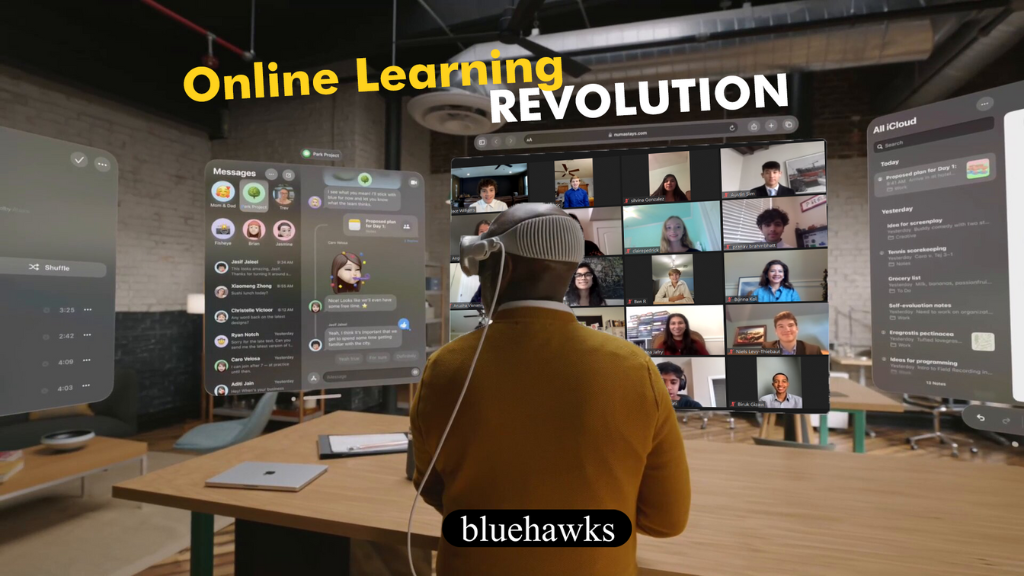 Apple Vision Pro: Future of Online Learning is here
June 8, 2023
GRE Scholarships: All about GRE Scholarships for Indian Students in 2023
September 11, 2023
In a country as diverse and vast as India, the youth represents the driving force behind its progress and development. However, many young individuals face challenges in their journey towards success, with English proficiency being a significant obstacle. 
bluehawks, an organization that has been making waves with its experimental learning approach, transforming the English proficiency of India's youth. Every year, bluehawks celebrates the freshmen induction at Lovely Professional University (LPU), welcoming thousands of ambitious students to an adventurous learning journey. Through their English Communication courses, bluehawks empowers these new believers to realize and achieve their career dreams with open eyes, opening doors to endless opportunities and accomplishments.
The Adventurous Learning Journey at LPU:
A freshman, also known as a new student to the university life, enters the LPU campus with big dreams and aspirations. LPU is renowned for its commitment to providing quality education and holistic development, and the freshmen induction sets the tone for an exciting and transformative academic experience. bluehawks, with its innovative English Communication courses, becomes an integral part of this induction process, helping students develop essential skills for their personal and professional growth.
The Power of bluehawks' Experimental Learning Approach:
At the core of bluehawks' success lies its experimental learning approach, which sets it apart from traditional English language learning programs. The organization understands that language proficiency goes beyond grammar and vocabulary. Effective communication involves confidence, fluency, and the ability to express ideas with clarity and conviction. bluehawks' courses are designed to create an immersive and engaging environment, encouraging students to apply their language skills in real-life scenarios.
Interactive Classroom Sessions: bluehawks' expert instructors employ interactive classroom sessions, where students actively participate in discussions, debates, and group activities. This fosters a sense of camaraderie among students and boosts their confidence in speaking and expressing themselves in English.
Experiential Learning Workshops: The organization conducts experiential learning workshops that simulate real-world situations, such as job interviews, business meetings, and public speaking events. These workshops provide students with valuable practical experience, enabling them to overcome their fears and excel in diverse settings.
Personalized Attention: bluehawks understands that every student has unique strengths and weaknesses. Hence, the organization provides personalized attention to each learner, identifying areas of improvement and tailoring the course content accordingly.
bluehawks - A Catalyst for Transformative Opportunities:
The impact of bluehawks' English Communication courses extends far beyond the classroom. The organization has been instrumental in helping students unlock their potential and grasp numerous internship opportunities during their academic journey.
Testimonial from a Successful Student:
One of the shining examples of bluehawks' transformative influence is the success story of a student who credits the English Communication Course for his professional growth. He shares, "bluehawks' English Communication Course helped me grab multiple internship opportunities during my study and raised my bar from a six lacs salary package to 60 lacs."
This testimonial highlights how bluehawks' experimental learning approach not only enhances language proficiency but also instills the confidence needed to excel in the fiercely competitive job market.
bluehawks stands as a beacon of hope for India's youth, paving the way for a brighter future by transforming English proficiency and communication skills. Through its experimental learning approach, the organization has become an essential part of LPU's freshmen induction, guiding thousands of students on an adventurous learning journey. bluehawks' courses have empowered young believers to realize their potential, achieve their career dreams, and open doors to lucrative opportunities. As India's youth emerges as a force to be reckoned with on the global stage, bluehawks continues to be a driving force in their pursuit of excellence.